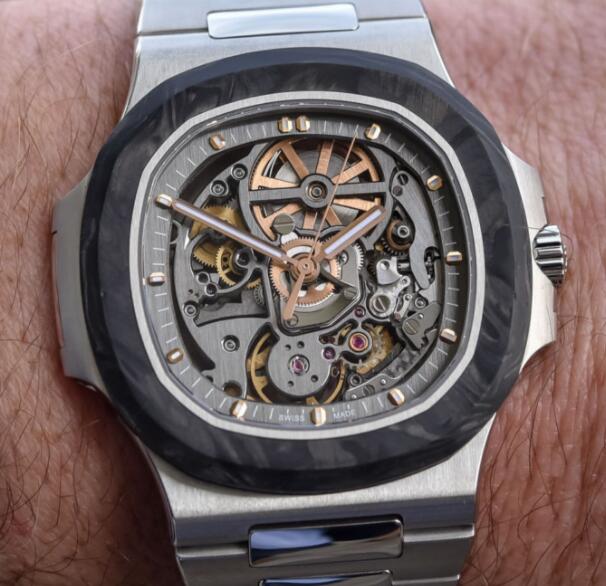 Experience: The "Pearl Project" of Geneva craftsmen. Skull Nautilus 5711
Artisans Geneva is an independent company dedicated to the personalization of watches. We have nothing to do with Patek Philippe SA, nor are we authorized by them to interfere with its products for any reason. Personalization is ordered by customers who own the Patek Philippe Nautilus Ref. 5711, want something different and special for his private use. This unique timepiece demonstrates their know-how and the personalized service Artisans de Genève provides in response to customer requests. In their vision, each timepiece is infused with the memory of its owner, spanning several generations, weaving a unique story. Their client, a collector, entrusted us with an almost incredible project that reinterpreted his timepiece as a skeleton. Their craftsmen went all out to put this unprecedented project into practice.
Patek Philippe Nautilus ref. 5711 has a long history, which proves the excellence and talent of the fake Patek Philippe manufacturing plant, and they also strive to achieve this. Throughout the project, the craftsman aims to retain the original manufacturer code while instilling the timepiece with his own vision. Beveled, polished, satin-finished, round textures and even forged carbon bezels are all part of the "Pearl" project. Craftsmen across Switzerland carefully considered and implemented every detail. Lovers who serve unique projects combine handicrafts together. Know "Pearls".
Turn the "Pearl Project" over and you can see the completely modified Patek Philippe movement 26-330 SC. The movement has been hollowed out, beveled, satin-polished, and treated with anthracite to make it extremely sporty. The balance bridge is mirror polished, and the 21K gold tourbillon is hand-hollowed, beveled and satin polished. In addition, "Pearl Project" and the owner's initials are engraved on the bottom cover.
By replacing the original stainless steel bezel with a forged carbon fiber bezel, this 5711 has a unique identity and unparalleled appearance. The dial is completely hollowed out and then beveled by hand. It has a 12h/6h satin finish with matte finish and 18K rose gold markings to enhance subtle color contrast. With the markings on the dial, Geneva craftsmen replaced the original hour/minute hands with 18K rose gold hands and polished the center of the crown. As far as the second hand is concerned, this rose gold case is also sandblasted. Except for the bezel, the case, crown and bracelet were not affected.
In the words of customers who require this unique customization:
"As watchmaking enthusiasts, the father and son in our family are collectors. The fake Patek Philippe Nautilus model is particularly important to us. From my father's first model 3700 to my 5711, it has been passed on from generation to generation. When I contacted When the Geneva craftsmen submitted this project, my dream was to be able to stare at the heartbeat of the clock. I didn't know what to do. From it, we worked together for 3 years. It was an amazing adventure. The result exceeded my expectations; Geneva The craftsmen have achieved technical and aesthetic achievements. They turned my work into a real work of art, a gem."